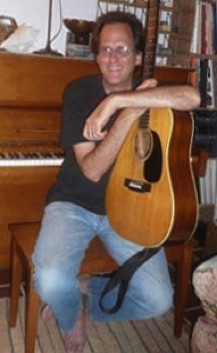 Musician and songwriter Bill Bachmann got his start opening for the likes of Dave Van Ronk and Steve Goodman in his hometown of Buffalo, NY.  After a move to New York City's Greenwich Village, Bill was soon called upon by luminaries Matt Glaser, Kenny Kosek, Jon Sholle, Stacy Phillips, Paula Lockheart and Peter Ecklund, among others, to play guitar on their highly acclaimed albums.  Simultaneously, Bill had been wreaking havoc as a lead guitarist with Paul Siebel, Rod MacDonald, Andy Statman, The Song Project, David Massengill, and George Gerdes, to name a few.  Variety magazine called him "impressive on lead guitar" and The Boston Globe commended his "tasteful lead guitar."  The New York Post deemed him "a fine guitarist" and the Boston Phoenix asserted that Bill was "grossly under-recorded."
Bill also continued to gather acclaim as a songwriter.  Singers Shawn Colvin, Lucy Kaplanski, Christine Lavin and other artists teamed up to record his song "Vacation" on a Live at The Bottom Line CD. This track was chosen to appear on a Smithsonian Folkways Recordings CD, Fast Folk, along with other artists including Suzanne Vega, John Gorka, Richard Shindell and Steve Forbert.  
In the spring of 2009, Bill released a CD - Big World Out There.  In addition to writing the music and the lyrics, he played all the instruments (guitar, piano, bass, drums, synthesizer, harmonica, mandolin) and overdubbed his own harmonies, along with his daughter Alyssa's.  He also arranged, engineered and recorded every song in his home studio.  Wildy's World calls it "a master class in marrying storytelling to song craft" and claims "there are few in the Folk world or out of it who can tell a story with quite the same zest, wit and intelligence without compromising the inherent musicality of a song."  IndieMusic.com writes, "His songwriting approach generally falls into two broad categories: clever, humorous use of the craft for purposes of wordplay and whimsy, and personal, poetic takes on the moments and corners of life and reality that are the stuff that always intrigues artists.  He's good at both."  The Daily Freeman in Kingston, NY, notes, "Bachmann brings a sense of history with his tunes that recall a time when words were as important, if not more, than flashy licks and vocal gymnastics."  Folk and Acoustic Music Exchangeasserts, "I dare ya to find a release quite the equal of this.  And you'll have to do so on your own, 'cause I ain't lettin' loose of my copy."
Folk-n-Roller (released February 14, 2011) is lyrically driven, layered with humor and pathos, and showcases Bill's total command of the guitar more than ever –– in choice of notes, dynamics, and creative improvisation, romping through a multitude of styles.  Once again, he has produced the CD, played all the instruments, and written, arranged, recorded and mixed the songs himself.  Grammy Award winner Don Grossinger (Brian Wilson, Rolling Stones, Shawn Colvin) did the mastering.  MuzikReviews.com calls it "a near perfect album that never disappoints."  Folkwords from the United Kingdom exclaims, "another guitar and lyrics masterclass."  And Ariel's Reviewyou.com asks the rhetorical question, "Is there anything Bachmann can't do as a singer-songwriter?"
In the Spring of 2012, Bill completed the mailing of his B-A-C-H-M-A-N-N song to every Bachmann in the United States.  Many have written back and shared their own stories about how their name was always misspelled. In 2014, Bill's song "Telecasturbator" was selected as a Finalist in the 15th Annual Great American Song Contest, and in 2015 his song "Size Don't Matter on a Banjo" was selected as a Top Five Winner in its 16th Annual competition, picked from among 4,500 songs.
From 2019 through 2022, Bill published a number of videos on YouTube, particularly showcasing his guitar instrumental work. He resides in New York's Westchester County, performing in and around the New York metropolitan area.
Flight of the BumBillB Records